Wide Format Printers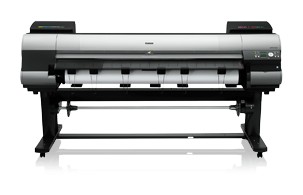 iPF9100
Built to put advanced printing technologies into the hands of artists and photographers, the 60" iPF9100 will help to fulfill your creative potential like never before. With the iPF9100, Canon delivers impressive 60" color output, strength in paper handling and speed in output - everything a professional needs to productively and efficiently create enhanced color materials. The iPF9100 printer is designed to fulfill the needs of any digital artist looking to create captivating images from capture to output. The iPF9100 is equipped with a unique palette of 12 colors to deliver a broader gamut for greater tonal range and more precise color reproduction. The ink formulation for Black, Matte Black, Gray and Photo Gray reduces bronzing while providing stronger ink adhesion to the print media, resulting in better scratch resistance without any additional protection. The iPF9100 incorporates the 12-color pigment ink system with LUCIA™ inks, the L-COA controller, along with an 80GB hard drive. The Canon L-COA processor, which is dedicated to the imagePROGRAF, is designed to optimize the best quality output at the highest possible speeds. Vivid, breathtaking, long-lasting prints are achieved by combining these advanced technological Canon achievements.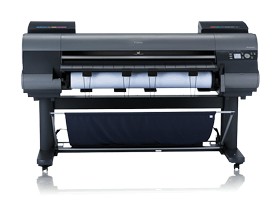 iPF8300
Built for ultra high quality imaging and exceptional performance, the imagePROGRAF iPF8300 44" large format printer is equipped with an array of professional features. The re-formulated 12-color LUCIA pigment ink system increases the achievable color gamut by approximately 20% from the previous imagePROGRAF 12-color series. A large 80GB hard drive, sub-ink tank system, Gigabit Ethernet support and Accounting Manager feature make this a premier solution for the fine art, photography and proofing markets.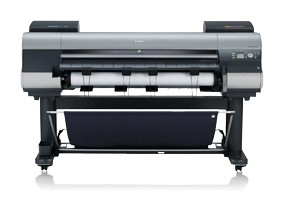 iPF8300s
An extremely versatile solution, the 44" imagePROGRAF iPF8300S printer is ideal for those who need quality large format output and maximum productivity. Built for the photography, proofing and production markets, the iPF8300S delivers high quality imaging while increasing overall productivity. Equipped with an 8-Color LUCIA EX ink set, 160GB hard drive, built-in calibration and 44" borderless printing, the iPF8300S is an excellent solution for portraits, advertisements, retail signage and contract proofs.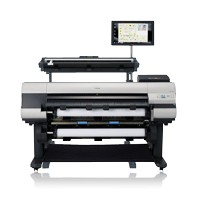 iPF825
A 44-inch wide powerhouse scan-to-copy / file / e-mail system designed to enhance productivity for medium to large workgroups, with dual media rolls and high speed throughput, the imagePROGRAF iPF825 MFP is a complete production imaging solution. Designed for AEC, CAD and GIS technical documents and general use, the iPF825 MFP provides a fast and effective system for copying, archiving and distributing maps, drawings, renderings, site and facilities management plans, design and layout proofs, posters and more.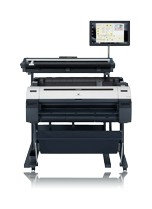 iPF755
Built for architects, engineers, GIS professionals, and other high-end technical documents users, the 36" imagePROGRAF iPF755 MFP is a powerful imaging solution designed to meet the demands of medium to large workgroups. With incredible line definition and accuracy, high-speed-throughput, and a large, simple-to-use touch-screen interface, the iPF755 MFP is an ideal solution for any professional with a need for scanning, copying and distributing CAD drawings, GIS maps and other large-format graphics quickly, effortlessly, and with remarkable detail.