Products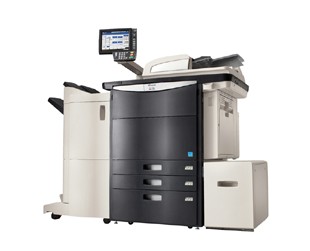 Integrated Business Systems is committed to finding the right equipment that fits your budget. The office products we offer can be configured with professional finishing options as well as advanced scanning and faxing software. We have special programs available to help you save on toner and ink costs. Whether you want to buy or lease, we are here to assist you every step of the way.
The following product lines are from our featured manufacturers.
Copiers/MFP's
Copystar/Kyocera provides the industry most comprehensive line of award-winning low to high volume, black & white and color copiers, and multifunctional products (MFPs).
Printers
Copystar/Kyocera highly regarded and highly rated network laser printers deliver high resolution output for any size workgroup.
Wide Format Printers
Wide format printers produce professional quality sheets of paper 24 inches and wider. If your organization prints a great number of posters, blueprints, designs, maps, or other large format documents, a wide format printer is the solution to sending your jobs out to print shops. We offer an array of wide format options from Canon.
Integrated Business Systems offers full lines of the following equipment. If you are interested, please contact us for more information.
We specialize in reselling off-lease and previously owned copiers, printers and fax machines. All of our refurbished machines are completely rebuilt and come standard with a Limited Warranty.
Companies today are inundated with paper documents. File cabinets are overflowing and retrieval of paper documents can be difficult. With KYOcapture the everyday pains of document capture, processing and routing are eliminated.